31M Rights are no Foreigners | 1J 2J The Zero Factory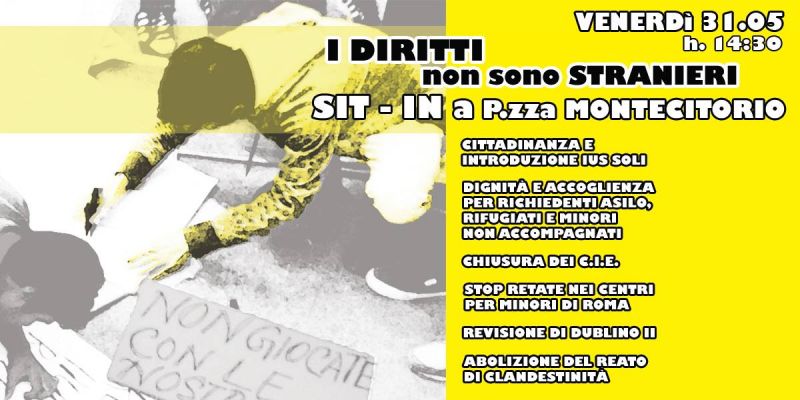 May 31st demo in front of the Italian Parliament: rights are no foreigners!
Citizenship, quality of life, dignity
During the last months, the issues linked to migrant citizens rights seemed to have disappeared from the local and national political debate. Yet, the symbolic appointment of a black minister was enough to trigger reactions ranging from the most vulgar racism, to attacks against her proposals on citizenship, C.I.E. (migrants detention centres) and against the charge of illegal immigration. While this political class seems to want to continue in the wake of two decades of repressive and securitarian migration policies, our society has already become mestiza, with millions of migrant citizens living in Italy, animating the different spheres of public life. At the same time, the crisis and the austerity measures are producing new flows of out-migration, involving Italian and foreign citizens. In this context, Italy has become, after Greece, the new "unsafe country" for refugees and asylum seekers.
The difficult national situation has even harsher consequences in the city of Rome, where thousands of refugees are homeless after the North African emergency and hundreds of unaccompanied minors from Bangladesh are subject to roundups and oppression by the local administration and police.
On friday the 31st of May, while in Frankfurt, the heart of European finance, Blockupy will protest against the deportation of migrant citizens, we are going to protest in front of the Parliament to affirm the necessity and the urgency of a general review of Italian and European migration policies. We'll do this because the only possible space of struggle for the rights of migrants and refugees is the european space.
We mainly request: to introduce ius soli (birthright citizenship) and to simplify procedures and times of acquisition of citizenship through residence; to shut down CIEs, inhuman places, where people are tortured and held in shameless conditions, with charges of no kind; to abolish the charge of illegal immigration as a criminal offense; a new hosting strategy for refugees, asylum seekers and unaccompanied minors along with immediate closure of big centres and a more widespread system of admission to the SPRAR (Asylum Seekers and Refugees Protection System) in order to allow access to all people who forward request; to stop persecution in the cxity of Rome against young migrants from Bangladesh and to immediately stop inspections and roundups; to review the Dublin II regulation.
May 31st 2:30 pm piazza Montecitorio Roma
#31M #blockupy #NoTroika
First promoters:
Arci, Esc Infomigrante, Yo Migro, Laboratorio 53, La Strada, Servizio Civile Internazionale, Associazione Studi Giuridici Immigrazione (ASGI), Action – Diritti in Movimento, Senza Confine, Rifondazione Comunista, Scuola di italiano Astra 19, Lab!Puzzle, Scup!, Csoa Sans Papiers, Pirati Roma, Confederazione Cobas, Za Lab, GAO Cooperazione Internazionale, Anthea Edizioni per l'Intercultura
For the full text of the call, see Italian version