Towards Agora99 transnational struggles meeting in Istanbul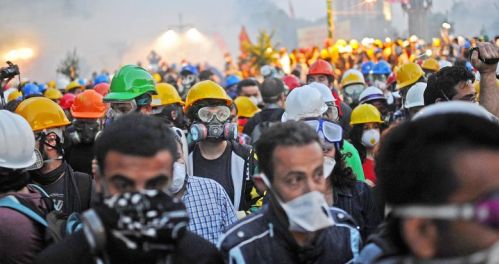 DinamoPress ed Esc Atelier saranno ad Istanbul il 24 e il 25 ottobre per un dibattito sulle lotte trasnazionali e il pre-meeting di Agora99 che si svolgeranno nello spazio occupato Caferağa Mahalleevi. Leggi anche: Agora99 open letter to Gezi forums
Invitation for the 24th and 25th of October 2014 in Istanbul
Friday 24th, 6pm: A TRANSNATIONAL SPACE OF COMMON STRUGGLES IN ISTANBUL
Caferağa Mahalleevi, No 24 (Hacı Şükrü Sokak), 34710 Kadıköy
Different social struggles which took place in the past years in cities of Spain, Greece, Italy, Portugal, Germany, Bulgaria, UK, and Holland among others, animated the political space of Agora99. Agora99 is thought as a transnational space for connecting, networking and relating different experiences of the struggles for real democracy and right to the city, practices of self-management of hospitals and self-production in factories, collectives of precarious and indebted people, networks against infrastructure projects, media and technopolitics collectives, struggles for the freedom of movement and feminism, just to name a few.
These experiences invite Istanbul-based forums and groups to this meeting to have an open discussion, to share analysis and experiences, connect and imagine a common space of struggles. We would love to understand together which are our commonalities to shape a path of resistance and organization.
People linked to Fundación de los Comunes (Spain), Peoples Square Madrid (Spain), Dinamo Press and Esc Atelier from Rome (Italy), Global Project from Napoli (Italy), Interventionistische Linke (Germany), Gezi Solidarity Forum, Betaforum and 2Dh5 Festival (Netherlands), as well as transnational networks like Global Square will participate in the discussion.
9pm: screening of documentaries
Saturday 25th, 4pm – 9pm
MEETING: LET'S ORGANIZE THE 3RD AGORA99 IN ISTANBUL IN 2015!
Caferağa Mahalleevi, No 24 (Hacı Şükrü Sokak), 34710 Kadıköy
The next day, we want to meet again in the same place, Caferağa Mahalleevi, in order to discuss whether and how it is feasible to hold the next Agora99 in Istanbul. We want to discuss the possible political development of Agora99 as well as organizational matters. So if you are interested in making it happen in Istanbul, you should come to this meeting!
See the longer call for this meeting and learn more about Agora99: http://99agora.net/