Apple Watch 3 – Exploit Student Workers Further An Investigative Report on Apple Watch's Exclusive Manufacturer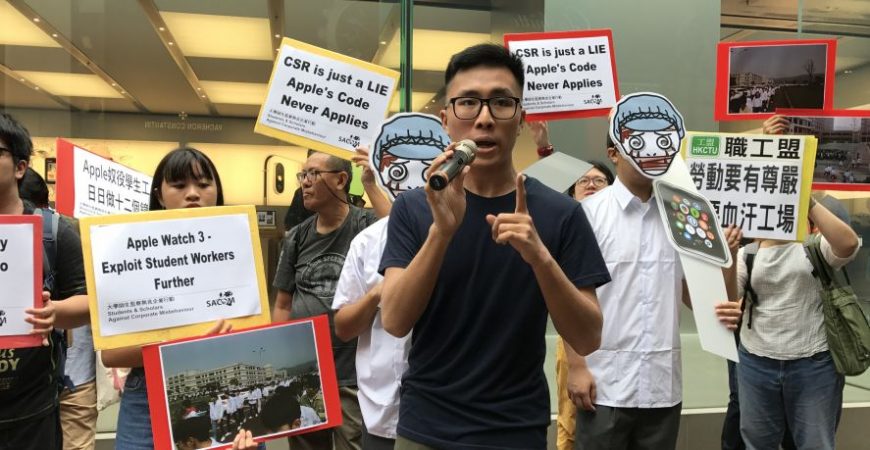 Apple Inc. has been actively relocating its manufacturing centres to regions with lower costs since 2010. This shift has been growing even faster in recent years due to the improvement of working conditions in coastal China. This investigative report aims to examine whether Apple is complying with its own Suppliers Responsibility Standards and local laws while establishing relationships with new manufacturers in these less developed regions.
This report discloses the abuses of student interns found in Quanta Computer, Apple Watch's exclusive manufacturer. Relevant sections of Apple's "Supplier Responsibility Standards" and China's "Administrative Provisions of Internships for Vocational School Students" are quoted in comparison with the reality of student interns' working conditions in the factory. Our major findings are:
1. Irrelevant Majors: Majors of the student interns interviewed are totally irrelevant to electronics (such as fashion design, hotel management, accounting, and early education). Students are sent to the factory only in order to fulfill its need for labour.
2. Absence of educational elements: Students work as ordinary production line workers without any extra training or learning materials. They learn nothing from the "internship".
3. Forced labour: Students reported that they cannot graduate without completing the internship. Some also reported that their dining and accommodation subsidies would be cut if they refused to do the work assigned to them. Students have no choice because they face negative consequences if they refuse the internship.
4. Unlawful shift arrangement: It is very common for student interns at Quanta to work 12 hours a day and over-night shifts that violate the Provisions.
5. Unlawful Recruitment: The factory is illegally using labour recruitment agencies and collecting deposit from student interns.
Based on these violations of the rights of student interns, we demand Apple to make improvements immediately. Our demands to Apple Inc. are as follows:
SACOM's Demands to Apple
1. Strictly apply the Supplier Responsibility Standards to all affiliated manufacturers worldwide;
2. Guarantee that all manufacturers comply with local labour laws and regulations;
3. Actively Provide Sufficient Protection to all student workers in it supply chain including:
• Stop recruiting student workers with unrelated majors
• Provide real vocational training to student workers
• Stop assigning student workers to work overtime and night shifts, which are both illegal
• Stop using for-profit labour recruitment agencies to recruit and manage student workers
4. Record the findings of this report in Apple's next Corporate Social Responsibility (CSR) Progress Report;
5. Organize a meeting involving SACOM, Apple and Quanta to establish a timetable for rectifying Quanta's violation of its employees' labour rights.
In 2010, 18 workers attempted to commit suicide at Foxconn site. They were only 17 to 25 years old. In order to put on a good face to the public, Terry Gou, the CEO of Foxconn said to the media that the company would raise workers' wages by 20%. However, what is the reality?
Apple has just launched its iPhone8 today. But do you know that iPhones are made by migrant workers who are forced to separate from their own family due to financial pressure? Here are workers' words to Apple!
In recent years, the term "Empowering Workers" is always found in Apple Inc.'s Supplier Responsibility Progress Report. "Every workday should include opportunity and enrichment." (Apple's Supplier Responsibility 2017 Progress Report) "It's more about than jobs. It's about opportunities." (Apple's Supplier Responsibility 2016 Progress Report)
However, what is the truth in Apple's supply chain? Is Apple really providing learning opportunities to its employees? This animation produced by Students and Scholars Against Corporate Misbehaviour (SACOM) disclosed the fact that student interns are widely used in Apple's Chinese suppliers as cheap and disposable labour. These student interns who are having totally irrelevant major, such as pharmacy, accounting and early education, were sent to the factories to perform repetitive tasks just like a regular worker. While they are not provided with any actual learning opportunities, they are also not having full workers' right as they are not regarded as a formal worker.
A new investigative report disclosing Apple's student interns abuses will be published by SACOM soon. To demand Apple Inc. to stop abusing students and end labour informalization, please like and share this animation. We also want you to take a photo/video and tell Apple to stop labour rights violation. Upload the photo/ video to Facebook/ Tweeter, tag #SACOM #iSlaveat10. SACOM will start our next round of anti-sweatshop campaign gathering your voices and demands! Each photo matters!
*Published on SACOM.HK