#16D Solidarity with VioMe [EN-ESP]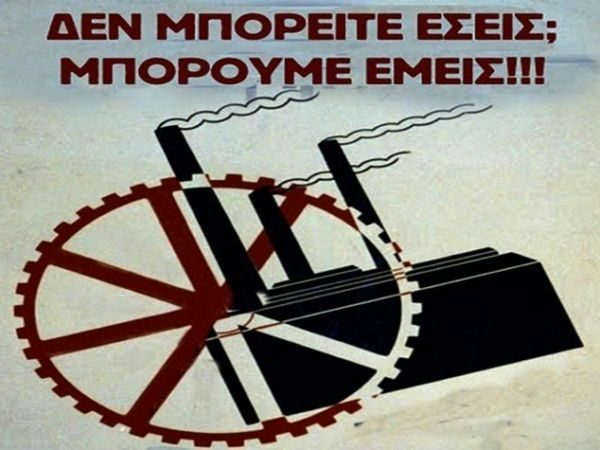 Call for solidarity by the VioMe workers, occupied factory of Thessaloniki, Greece, about the day of actions of the 16th of december against the attacks against VioMe. Here's the VioMe website and here the international solidarity multilanguages blog. In this article we publish the english and the spanish version of the Solidarity call, here's the italian version. On 14th of december in Argentina there'll be a day of action in defense of IMPA's struggle defending their occupation and reclaiming expropriation.
ENGLISH VERSION
Co-workers and comrades in the global movement,
We, the workers of VIO.ME., after the owners abandoned the factory, we decided through the assembly of the workers to operate the factory under workers' control and self-management through our assembly.
From that moment on we fight and we carried out the decision of the assembly. We achieve to produce products for our survival, by the means of production expropriated from us.From the moment we entered the factory and started the preliminary work we have on our side a big part of the global movement and support of various working structures and social struggles. So, we succeed in keeping our own, but also our families' dignity and we continue our struggle with great passion and strength.
At this time, while we are attacked by everywhere, we ask and demand from the state to solve the operational problem of abandoned factories. In that way, we will be able to move the products, which are produced by natural raw materials, so as to be accessible to all families. Thus, we will be able to keep the factory alive, offering to the whole society. At this moment the judicial authorities target to attack the project of VIO.ME., so we ask for political support from any structure that can support us through resolutions and other activities.
We join our voices and our power on Monday 16 of December and we exchange experience through the internet with various global working and social struggles, in order to be able to succeed in the management of production from the producers themselves. Co-workers and comrades, we no longer accept the previous slavery even if it is in a golden cage, but we demand and fight for our absolute freedom. On Monday 16 of December, we distribute our products throughout the day in the social space for freedom Micropolis, we cook all together, and in the evening we celebrate with music for all the self-managed factories.
Solidarity greetings from the workers of VIO.ME.
SPANISCH VERSION
Trabajadores y compañeros de los movimientos globales
Nosotros, los trabajadores de VioMe, cuando los dueños de la fabrica la abandonaron, decidimos en asamblea tomar la fábrica y auto-gestionarla bajo control-obrero. Desde ese entonces, luchamos para seguir llevando adelante las decisiones de la asamblea. A través de los medios de producción expropiados pudimos fabricar productos básicos que asegurasen nuestra supervivencia. Desde el momento en que entramos a tomar la fábrica y empezamos con el proceso de recuperación, recibimos el apoyo de muchos movimientos sociales, trabajadores y organizaciones populares a nivel global. Así pudimos recuperar lo nuestro, la dignidad de nuestras familias, y seguir con pasión y fuerza en nuestra lucha.
Mientras somos atacados por varios flancos exigimos que el Estado resuelva el problema de las empresas y fábricas abandonadas: precisamos garantías sólidas para producir sin riesgo de desalojo, para poder vender nuestros productos, realizados todos ellos con productos naturales y accesibles a todas las familias y el pueblo; para poder mantener viva la fábrica y posicionarla a disposición de la sociedad.
En este momento las autoridades judiciales intentan atacar el proyecto de recuperación de VioMe. Por eso pedimos apoyo político a todas las organizaciones que pueden apoyarnos en varias maneras (a través de comunicados, actividades de lucha, solidaridad).
Compañeros y trabajadores, no vamos a aceptar más la esclavitud, tampoco si está en una jaula de oro. Seguimos luchando por nuestra libertad! El lunes 16 de diciembre vamos a distribuir nuestros productos en el espacio social y cultural liberado Micropolis, y vamos a organizar una asamblea pública; festejando, cocinando y escuchando música juntos, defendiendo a todas las Recuperadas del mundo!
Saludos solidarios desde VioMe