Tsunami in Roma [EN-GR]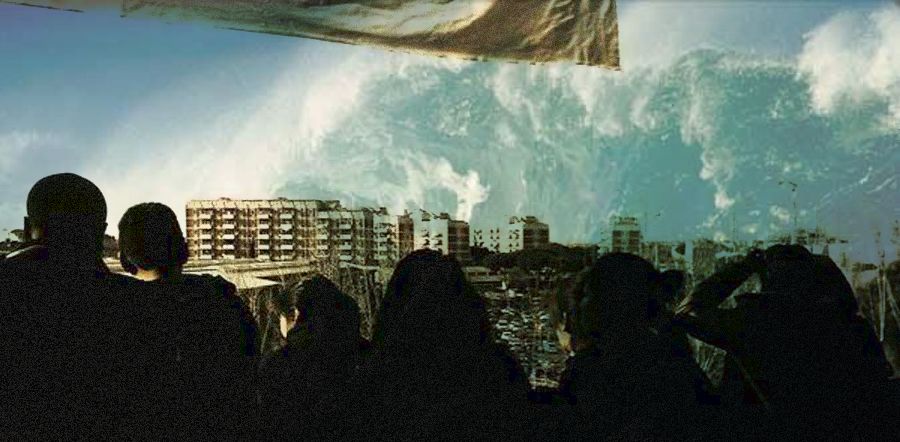 A new wave of housing occupations in Rome. Ten buildings in total, hundreds of families find a home.
This follows the previous wave of occupations on December 2012, when another ten vacant buildings were occupied in the course of one day. The vast majority of those occupations are still ongoing.
To solve the housing emergency in Rome, movements ask that the local administrations buy, at construction cost, part of the 51,000 homes sitting unsold on the market. To stop further constructions and promote the regeneration of vacant buildings.
On April 9 demo to the Regional administration headquarters for the suspension of evictions and a special plan on housing.
See Italian version for more pics and infos | #TsunamiTour
The statement released by the housing movement on the synchronized occupations:
APRIL 6, 2013, 1 pm. The alarm rings again. If you're living with the fear of officers knocking on your door to evict you or foreclose your home. If in the past few years or months your rent has increased ridiculously, up to two when not three times the price. If you no longer manage to keep up with your mortgage payments or your unaffordable rent. If you're unemployed or precarious. If making your ends meet has become an impossible mission. If you're paying for a crisis you definitely did not contribute in creating and your life is turning into a nightmare – don't sleep on it, come with us, take back what is yours, occupy the town!
A few minutes ago, nine* vacant and abandoned buildings were occupied. The lights of yet another 9 buildings – former offices or unsold apartment blocks – were switched on to switch off the profits of a few at the expense of us all. Leave in the dark those who spent years accumulating a fortune by stealing our territories and lives. Another 9 spaces taken away from the lords of construction and real estate speculation. And this right when they're trying to pour more tons of concrete on the city, through a last minute package of "urban planning" provisions – nothing but one more "Sack of Rome".
No surprise, given the dark shadows of the Kings of Rome are heavily into the race towards late May's elections for the new mayor and City Council. The kings are playing for all teams, to ensure they can keep shaping at their own advantage the future of a town looted beyond belief. The Capital of concrete, of austerity and of crooked business.
It is up to us to stop them. Let another idea of the city emerge through conflict and self-organisation. A different city that we have to build and conquer together.
Besides, we know too well that cutting the costs of the political system a little (assuming it will really happen), or sprinkling a bit of transparency here and there and bringing in some young new faces (who may not be that new in the end), won't be enough to really change things and wipe away the powers that keep fuelling precariousness and starving us.
No one will conquer our rights for us. Only us can take directly back what is ours. This is also why today we see our struggle for housing as connected, in this commom day of mobilisation, with the battle against landfills, incinerators and all harmful operations destroying our territories and health.
With all this well in mind we prepare to take the streets on April 9, when we will march on the headquarters of the Lazio Region for generalised suspension of all evictions and the immediate adoption of a special plan to address the housing emergency.
Rome, 06-04-2013
Movimenti per il Diritto all'Abitare. Coordinamento Cittadino di Lotta per la Casa, Blocchi Precari Metropolitani, Action, Comitato Obiettivo Casa.
*13 in the initial text. In the end, on April 6 there were 9 occupations in total, plus a further one on April 7.
"Tsunami Tour" was also the name of Beppe Grillo's past electoral campaign.