Shall Poland become Greece?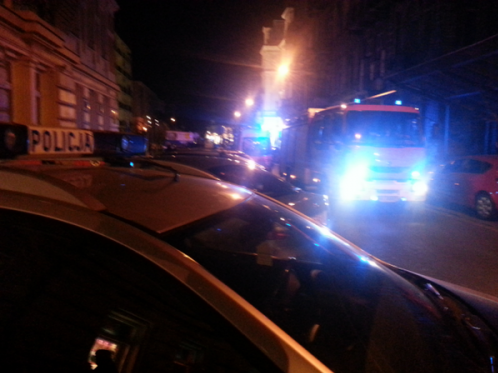 On October 28. three men interrupted LGBT issued film screening in the headquarters of Political Critique organisation in Warsaw. One of them fired smoke grenade, shouting "bomb!". Panic broke out. In a caustic smoke about 40-50 people were trying to run out of the room. The second grenade was installed in the stairwell in order to impede the evacuation of participants of the screening session. The incident ended happily. No one was hurt. Police are searching for the perpetrators of the attack. All eyes are directed towards Polish nationalists whose strength in the recent years has been rapidly growing.
Political Critique is Poland's largest leftist organization. It runs socio-cultural centres in four cities and has groups of activists in many others. It was not the first attack during the events organized by the organisation prepared – as everything indicates – by the radical right wing. Throwing firecrackers inside the centres' spaces, interrupting meetings shouting xenophobic slogans, pouring paint on the front door, knocking out windows, chanting right-wing cries in front of Political Critique quarters, formulating threats addressed to its activists had already taken place in Warsaw as well as in Lodz, Gdansk, Cieszyn or Wroclaw. Social work for democracy in Poland in the shadow of the nationalistic threat is an everyday life of the organisation.
The incident of October 28. also fits into a sequence of nationalists' attacks performed over the past twelve months on various occasions in Poland. The raid on Wagenburg squat in Wroclaw with one resident heavily beaten, rupture of university lectures delivered by left-wing oriented scholars including Zygmunt Bauman, attacks on individuals who were stereotyped as leftists are the best known events with xenophobic subtext initiated by the extreme right in the past period. About how many of such incidents we do not know?
Nationalists interrupt Zygmunt Bauman's lecture in Wroclaw (by Natalia Sawka)
These are not unconnected with each other actions arising out of nationalistic trends among Polish youth. They were performed against the background of the National Movement's launching process. National Movement is a coalition of radical right-wing organizations which creation was announced on November 11., 2012 in Warsaw during a mass demonstration of nationalists on the occasion of the Polish Independence Day. The coalition brings together right-wing groups, football fans' associations and individuals. Worst of all – it seems to have a growing support among the people who direct towards nationalistic agenda while searching for alternatives against injustices of capitalism, decomposition of collective identity, disintegration of community and against poverty with its consequences affecting both the conditions of material life and sense of human dignity. Increasing visibility of the National Movement in Polish public sphere and the growing popular support for nationalistic attitudes more and more often excuse attacks against democratic activists' circles and ordinary citizens recognised as non-patriots.
The next Independence Day is approaching. All of Poland will be flooded with manifestations performed under the national white-red flag. On November 11, 2013, through the streets of Warsaw will march tens of thousands of people who believe that Poland should be national, catholic, heterosexual and racially pure. For the first time the right-wing demonstration celebrating November 11. will be secured by the Guard of Independence – modelled on the Hungarian Guard uniformed nationalistic militia. Was the attack on Political Critique headquarters in Warsaw a warm-up announcing more of this type of incidents in the forthcoming weeks? And what shall happen next? Will smoke grenades eventually be replaced with hand ones and firecrackers by bombs? Will the situation in Poland transform following the Greek scenario where the rise in power of Golden Dawn inspired political assassinations? Answers to these questions are key to the future that might become brightly white or darkly red.
original text publiched on polandtalks.com